Millrace Photography Contest & Exhibit
The 20th Annual Millrace Photography Contest
Friday, November 1 and Saturday, November 2, 2019
You are invited to enter…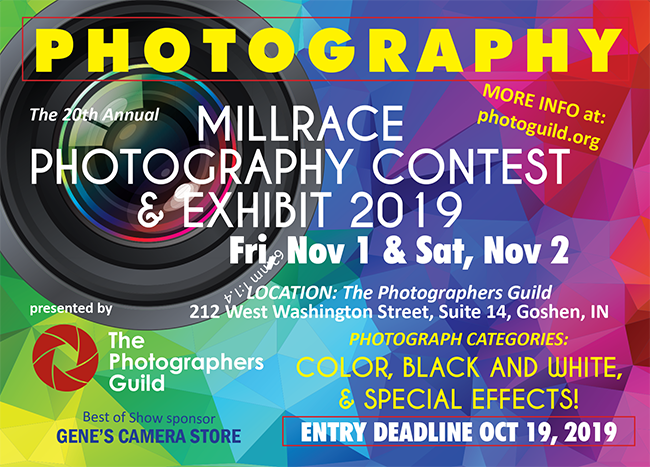 ---
---
*Student Entry Form and Labels(The deadline for student pre-approval has passed. Please deliver your matted photos to the Photographers Guild. See dates below.)
---
WHEN:
2019 Contest & Exhibit:  Friday, November 1 (4pm – 9pm) – Saturday, November 2 (10am-2pm)
Grand opening Reception: Friday, November 1 (5pm-9pm)
EXHIBIT LOCATION:
The Photographers Guild, 212 West Washington St., Suite 14, Goshen, Indiana
WHO CAN ENTER: 

Amateur Adult Photographers (less than 25% of their income from photography) (All entries will be displayed)
Students (Grades 9 – 12) Student entries must be pre-approved by their respective "participating" teachers. Once selected, each student must submit their entries online for final approval. Email entries to info@photoguild.org.
PHOTOGRAPH CATEGORIES (for Adult and Student divisions):
Color, Black & White, and Special Effects*
*A "Special Effects image" is one that has been manipulated for artistic purposes by applying digital and/or traditional special effects. Minor adjustments, including cropping, spotting, dodging and burning, contrast and slight color adjustment or the digital equivalents, are acceptable for all three categories.
ENTRY FEE: 
Adults – $25 for up to 3 entries, $8 for each additional entry (Maximum 6 entries allowed).
Students – Free (Maximum 3 entries allowed)
If your photographs are available for purchase, fill in a price. (All proceeds will go to the photographer).
---
PRIZES:
Adult Division:
Best of Show – ($150 In-store Gift Certificate from Gene's Camera Store)


1st, 2nd & 3rd place in each category (Cash Prizes – $50, $30, $20)
Student Division:
Ribbons awarded for Best of Show, 1st, 2nd & 3rd place in each category.
No gift certificates or monetary awards issued.
PRINT DROP OFF –

DEADLINE TO ENTER: Saturday, Oct 19, 2019
Deliver your photographs along with entry fee to The Photographers Guild, 212 W. Washington Street, Goshen, IN — use the green side door located on the west side of the building, marked with a sign–second floor.
Wednesday, Oct 16, 6pm – 8pm or
Friday, Oct 18, 1pm – 5pm or
Saturday, Oct 19, 9am – 2pm (last chance to enter)
PRINT PICK UP:
Saturday, Nov 2 from 1pm – 2pm at The Photographers Guild, 212 West Washington Street, Suite 14, Goshen, Indiana 

or Monday, Nov 4 from 4pm – 6pm at

The Photographers Guild, 212 West Washington Street, Goshen, IN
(If you require an alternate drop-off or pick-up time, call Melodie at 574-529-4278)
 ENTRY RULES: Deadline to enter is Saturday, Oct 19, 2019.
All photographs entered MUST be matted. Entry size: a maximum of 16" x 22", the final size includes the matting. The photograph itself cannot be smaller than 8"x 10". No framed photographs, canvas mounts, or photographs mounted on metal backing are allowed. (Photographs on metallic paper are acceptable, along with matting.) 

A photograph must have been taken in the last three years. A photograph submitted in a previous contest sponsored by The Photographers Guild cannot be resubmitted.

The Photographers Guild and the judges reserve the right to reassign a photograph to a correct category or reject entirely for inappropriate content.

Permission of use: By submitting a photograph to the Annual Millrace Contest, you grant permission to The Photographers Guild to use the photograph in any of its general venue of programs, including marketing materials, website, instructional classes, promotion of The Photographers Guild, and other instances of Photographers Guild sponsored program activities.

All net proceeds of the Annual Millrace Contest go to support the general endeavors and educational programs of the Guild.

Photographs that are not picked up at the Guild within 90 days after the pick up deadline become the property of the Guild and may be disposed of at its discretion.

Print labels for each entry and attach to the back (lower left corner). Do not put your name on the front of print or mat. (If needed, copies will be available when photographs are dropped off).
The contest is graciously sponsored by: