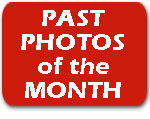 At each monthly meeting, members bring a printed photo (maximum longest side – 22″) of their choice to be entered in a competition where all attending members vote for their favorite "Photo of the Month".  The winning print is displayed in the Guild meeting room until the next meeting.  It's a fun competition for all.
Another avenue for sharing your work during the monthly meetings is during our Photo Challenge.
---
2018 "Photo of the Month" Competition Winners
All images are copyrighted.  Please do not copy, save, or reproduce in any way without explicit written permission.  Thank you. CLICK ON PHOTOS TO ENLARGE.
---
---
February 2018 – Don Hershberger and Joe Tinervia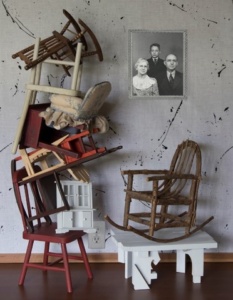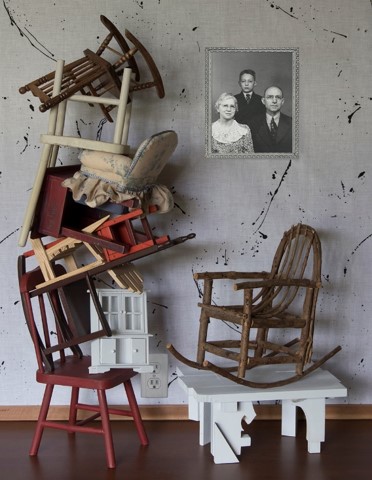 "All but two will fit in the closet" by Don Hershberger.  What started out as a fairly straightforward photo of the model furniture against a plain background progressed to become a pieced together simulation of a wall in a house as the background with electrical outlet and a picture hung on it.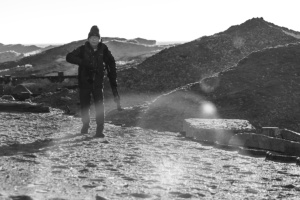 "Wu in the Wild" by Joe Tinervia. This image was captured during the Guild's outing in St. Joseph Michigan along the shore. You can see the Wen is walking along the edge of the metal seawall. The hills in the background are actually ice formations with sand blown over them to give them that unique texture of an alien planet. I wanted to get him in silhouette with some lens flare so I ran over to get into position as he was walking along. I am happy with the resulting image. I shot this on a Canon 6d with my 70-200mm f/2.8 lens at 73mm, f/3.2, 1/1000sec ISO 100, +2 Exposure compensation set due to the strong back-lighting. I cropped, raised the contrast and clarity, adjusted overall exposure down a bit and lightened up the shadows and Wen's face in Lightroom.
---
Photo Challenge
Another avenue for sharing your work during the monthly meetings is our Photo Challenge.  A topic for each month's Photo Challenge is assigned and members are encouraged to go out during the weeks leading up to the next meeting and capture images that they feel best interpret the topic.  At the meeting, the photos are then shared and friendly critique is offered to help the photographer recognize areas for improvement and/or what about the photo was done well. Read about the details and rules for submitting a photo.
2018 Monthly Photo Challenge Topics
JANUARY – iPhoneography / point and shoot, simple Camera.
FEBRUARY – Macro / Close up Photography.
MARCH – Multiple exposure / compositing to create image.
APRIL – Shooting up, down or Straight on. Same Image different angles.
MAY – Monotone images.
JUNE – Street Photography.
JULY – Motion Blur to add artistic effect.
AUGUST – Long exposure approx. 1 sec or more.
SEPTEMBER – Panning to capture runners, fast moving vehicles, etc. https://pixelperfectyou.com/2017/08/14/panning-technique-in-photography/
OCTOBER – Night Photography (if your adventurous light painting).
NOVEMBER – Conceptual Photography.
DECEMBER – Abstract Photography.
It is up to the photographer to come up with their own interpretation of each theme.